"Bronco" Ch. Spirit Ride'Em Cowboy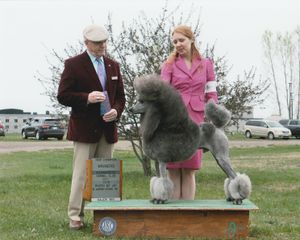 Bronco is our silver male, born November 29th, 2014.  He is 24 inches tall and about 53 lbs. He is a vivacious, active dog with a solid temperament and a great work ethic. He learns quickly, loves to retrieve, and is working on retrieving in the water. He is the great grandson of our foundation bitch Spirit, and she is his very favorite friend. He has no seperation anxiety, fear, same sex aggression, and has been loose in the house from 7 months of age. He has excellent moderate angles, and clean, beautiful movement  He is an AKC Champion, completely owner handled from the Bred By exhibitor class. He has earned the special medallion from AKC for being a Bred By Champion. He has earned a AKC Group 3 award, as well as multiple Best in Group and group placement in the ownerhandled class.  He is also a UKC Champion with a Reserve Best in Show from being shown once or twice there.   We plan to earn his AKC Grand and many performance titles now that he is cut down into HCC clip.
His health testing is complete and clear and can be found online at offa.org. He is VGL diversity tested. He has sired one litter with one of our older females. He is available at public stud to breeders with similar breeding ethics. He has sired 3 litters by natural breeding, as available via natural, fresh chilled, or frozen. His puppies have had exceptional temperaments and great work ethic also. 
VGL Gene Diversity Testing: Haplotype 1004/2002 and 1006/2004  Outlier Index: .17 Internal Relatedness: .04
* Hips - prelim good
* Elbows - prelim normal
* Eyes - normal
* DM - normal
*VWD - clear
* Dentition - normal 
*OFA Thyroid- normal