On February 6th,  a beautiful litter of 8 blue puppies were born.  The mother was our very special Spirit, (AKC/UKC Champion Refinne Wild Spirit, RN,CGC); and the sire was the stunning Taylor, (Am/Can Champion Degana Anthing Will Do). These puppies exceeded my expectations in many ways with their amazing intelligence, trainablilty, and beauty.  There were many show quality puppies in the litter, but only Indigo stayed back with me to become a show dog, while the rest lead pampered lives as pet and obedience dogs. Here you can find some of the many emails and pictures that those owners sent me, showing me that my hard work of socializing the pups and choosing great parents paid off. 

"Polo"  Lives with Ann and her husband in Kentucky. Here's what she has said about Polo:
     "Polo is a delightful dog. He has been very well socialized. He does not appear to have any sound sensitivities as he has not had any issues with 4th of July fireworks in the area.  He loves all dogs, he likes attention from kids, is fine with strangers petting him, is really likes his vet. He was a regular at Home Depot when he was a puppy as he rode in the cart all the time. He has been in there several times as an adolescent and he behaves like a service dog in there, very proper and walks very nicely on lead and lays down when I stop to look at a product. He goes to the PetsMart weekly and other places. The kids on the street come over about once a week to play with him, he really likes that. His favorite thing is playing with other dogs so I try to arrange play dates for him weekly. I  do a lot of the upkeep with his grooming and then I take him to the groomer for the finishing touches. He stands still for me and he groomer says he does fine for him too."
.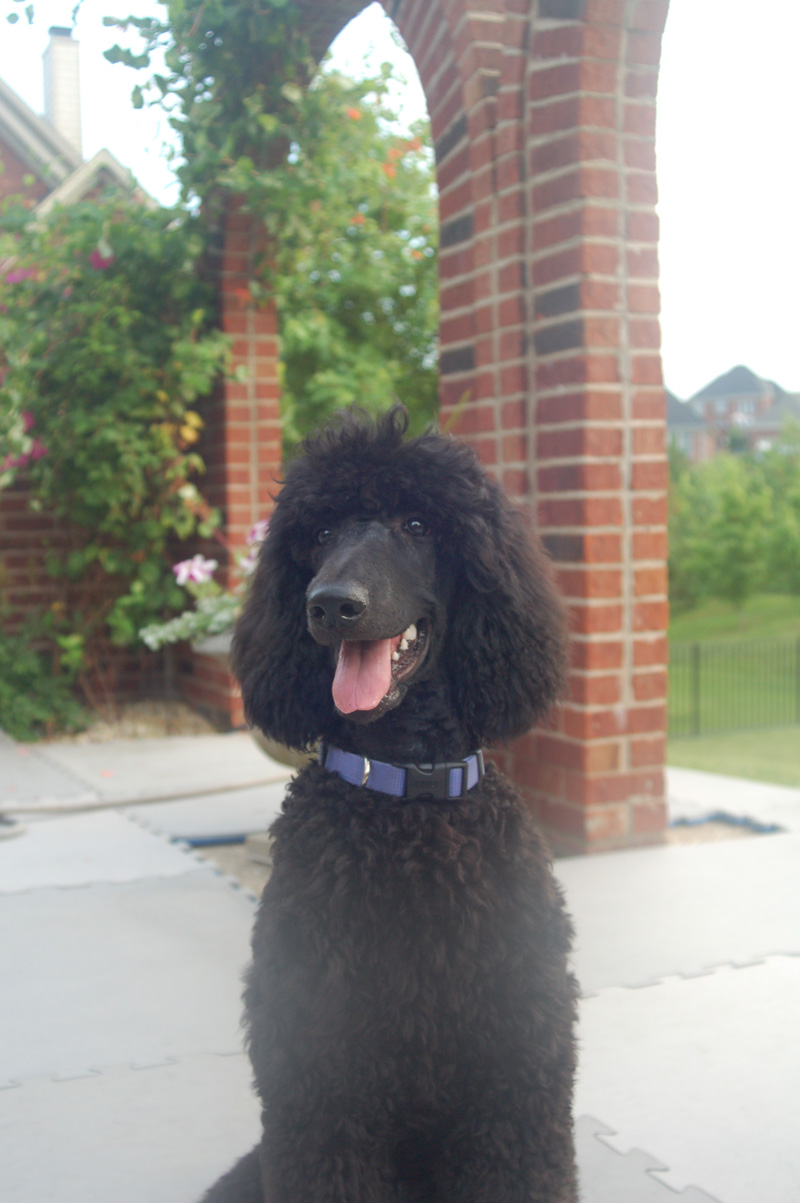 "Maisie" Lives with Elizabeth in Anchorage, Alaska. 
       "I have taken Maisie to two different friends' houses to visit, and she behaved so well both times. Everyone yesterday couldn't believe how well behaved she was, and that was with a resident dog in both houses. I love her temperament and personality, high energy withouth being hyperactive. We have started playing small games of finding the treat in the right cup. She got the hang of it almost immediately, while CoCo my older dog still has no clue. She really seems to like the water, although she has only retrieved sticks so far, she seems to have an aptitude for it.  I'm seriously thinking about doing some retriever training with her.  Add me to your waiting list for your next litter, I think I want a boy this time, one with personality and energy to match Maisie."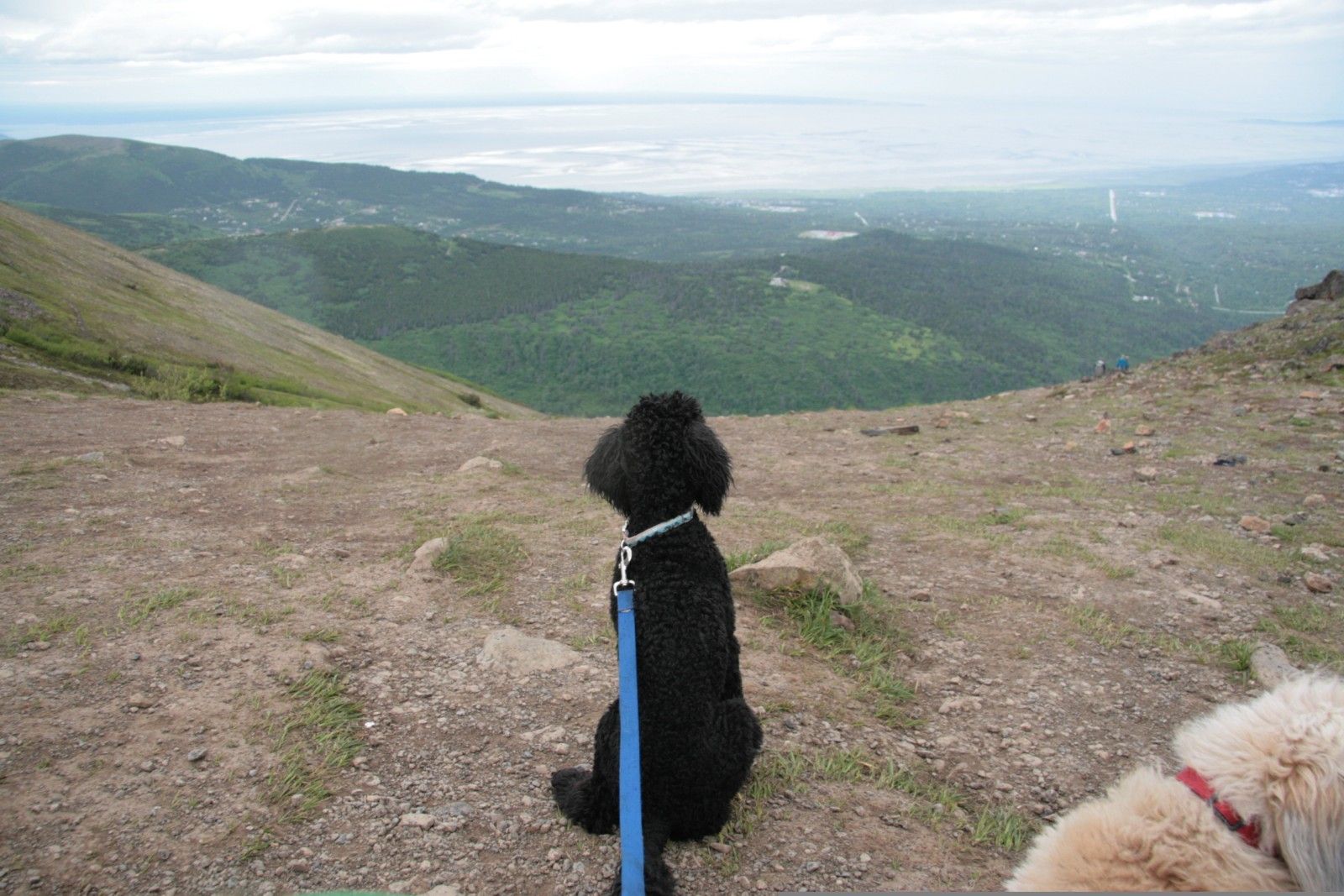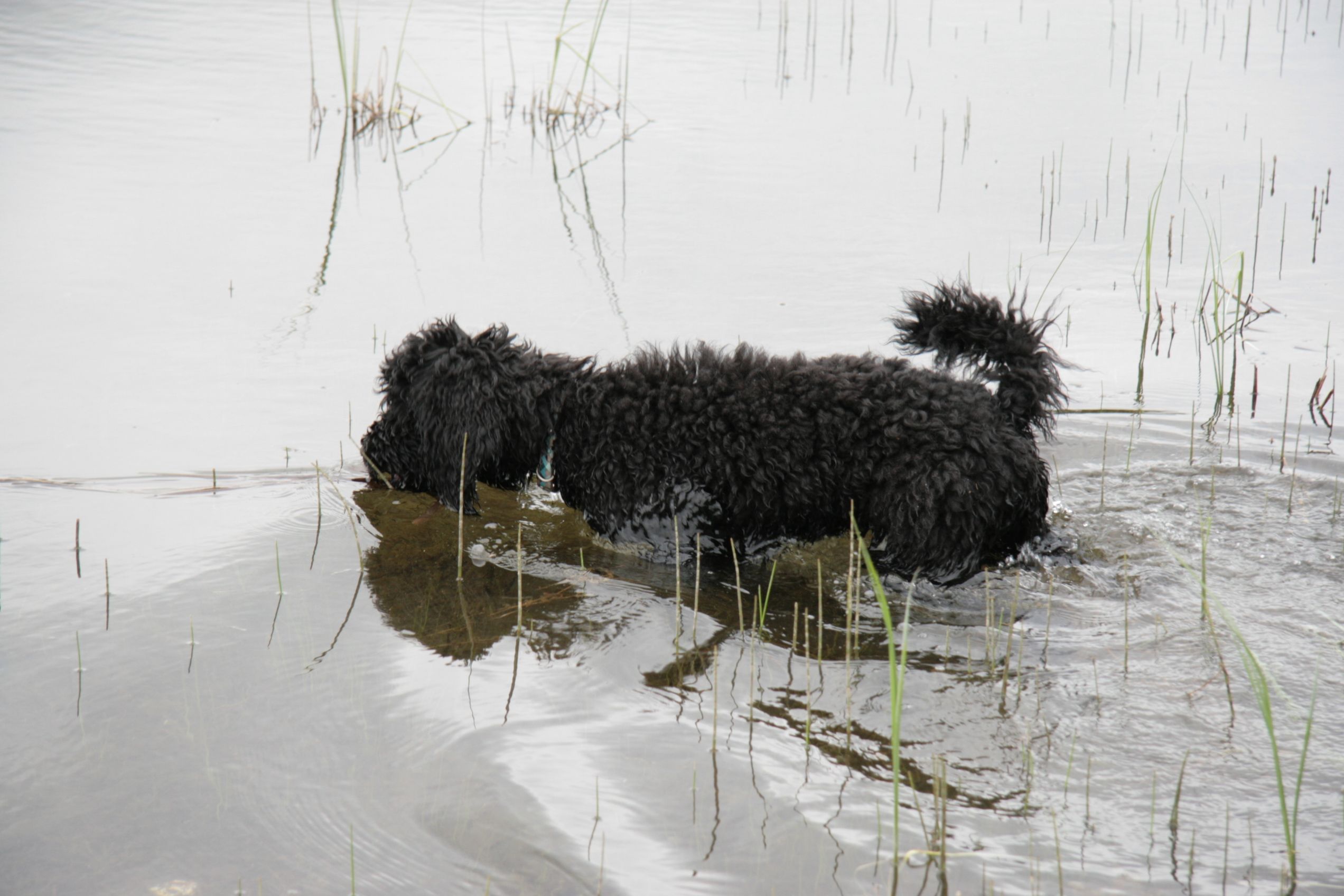 "Trinity" lives in Holland , Michigan, with Cindy and her family of active boys.  She emailed to say:
    "I just wanted you to know that Trinity is happy, healthy and enjoying her new home. She is a quite confident as you predicted! Already she is wandering all over our yard and seens to not have a care in the world. She loves the woods on our lot and has not whined at all. So she seems to be content and not missing her littermates too much. She is sleeping well and the boys are taking great care of her. We will send pictures soon.  Thanks for a great puppy, we are enjoying her."

"Palin" also made the 10 hour flight to Anchorage, Alaska.  She lives with Laramie :
          "Palin is awesome! Thank you for letting me have her! She is the joy of my life.  She is SO smart. She knows sit,down,shake hands,drop it, and to watch me. We need to work on loose leash. HA! She does not like to be slowed down!! She is so fun to have around. I feel very lucky to have her with me. She is my dream puppy! All of your training has really paid off."

"Junno" lives in the Twin Cities, Minnesota, with his owners, Deborah and Larry:
    "We are daily pleased and surprised with how beautiful and wonderful Juuno is. He has been very well socialized to dogs and people of all ages.  He sleeps well in his crate at night (has slept through the night since about the fourth day he was home).  He has a wonderful, quiet temperament and learns very, very quickly. We constantly get compliments on his looks, too.  In puppy play group at the humane society, the people in charge keep admiring his excellent social skills and being surprised he is so young. Juuno is fantastic, gorgeous, learning fast, and simply a wonderful, wonderful dog. It is so clear that people are swept away with his beauty and his temperament. At classes, at the vets, at the groomers, and every one else that comes in contact with him - they all rave about his beauty and say they've never seen a more handsome dog. We are proud and you should be, too!"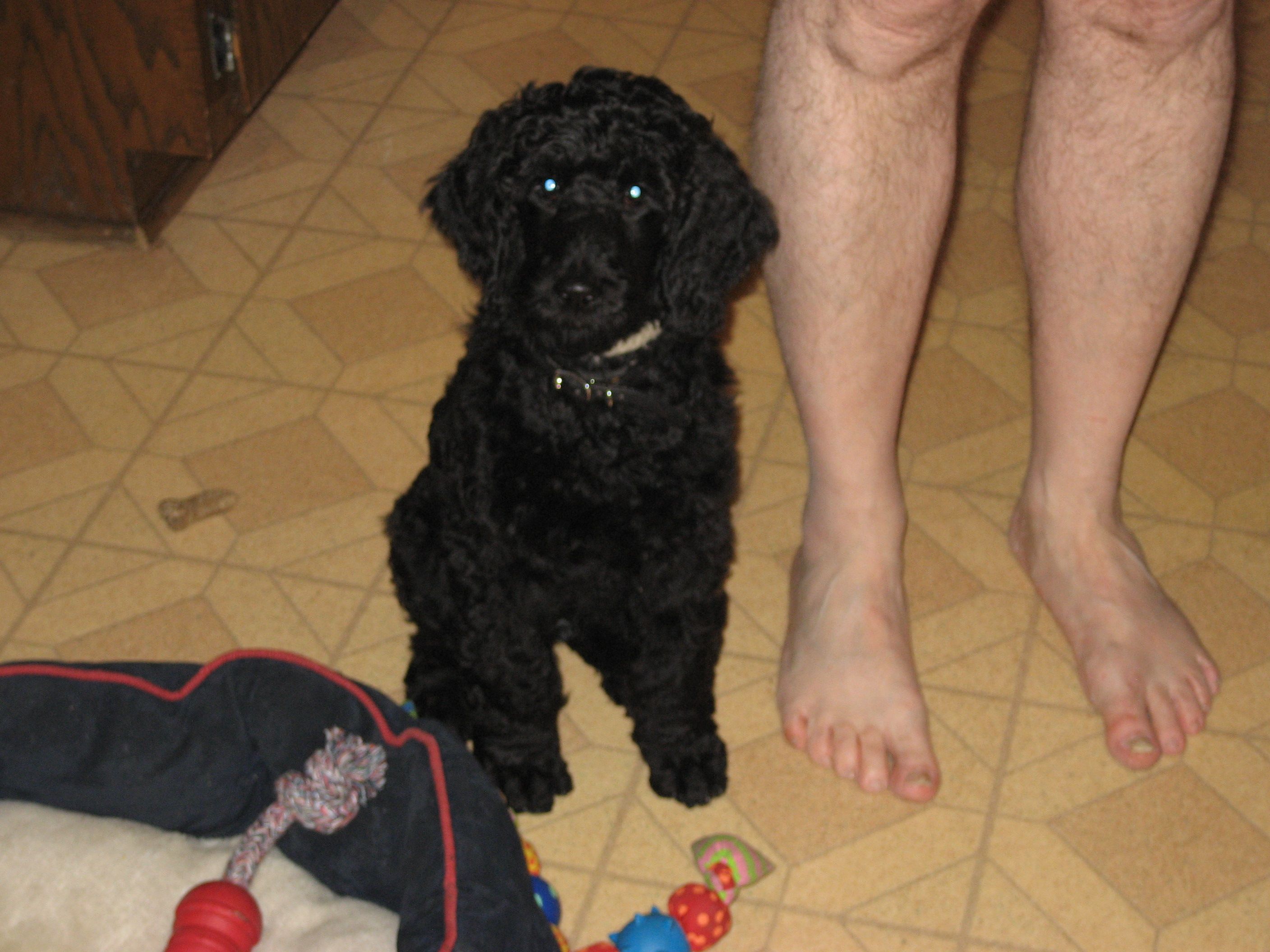 "Indigo", the female show pick of the litter, stayed here at Spirit Poodles. She will begin showing in August. Please see her page for more info and pictures of her.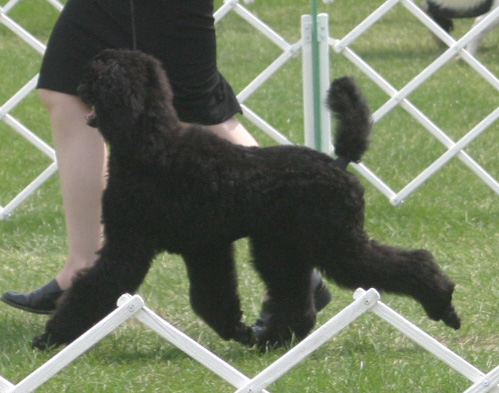 Am. Can.Mex. Int. Ch. Pamala's Manderly Spellbound

Ch. Refinne Wild Spirit,RN,CGC

JC Boutimes Man of the Hour

JC Boutime's Dreamcatcher

Am. Can.Mex. Int. Ch. Pamala's Manderly Spellbound

Lemerle Lockerbie Pure Silk

Am. Can.Ch. Lemerle French Silk

Am.Can.ChLemerle Travellin' Light