All Puppies from this  2009 litter Sold.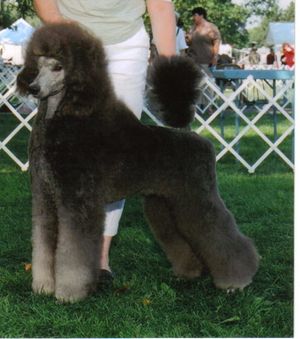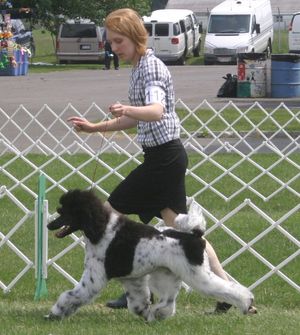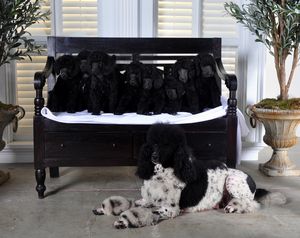 8 gorgeous puppies were born September 20th! 3 Boys and 5 girls. All pups are either blue or black. Both parents have complete health testing. All puppies have gone to their new homes. This litter was gorgeous with fun, active temperments. Smart as could be, with the eager to please temperment of their mother. All of them were pottying outside through their dog door by 6 weeks. All could sit on command by 8 weeks. We kept "Sunday" from this litter to carry on the pedigree and line, but there are other puppies from the litter doind obedience and agility!

Litter info:
Sire: AKC Champion Refinne Scene Selection CHIC # 51537-silver
Proud Mama: UKC BIS Champion Vintage Attire by Amandi,RN.- black and white parti color
COI: Less than 3%
The stud's owner has allowed the use of her exceptional AKC solid color AKC Champion male to test him for the parti gene.He is a half brother to our Spirit and a close relative of Fancy and Indigo. I am very happy with those lines so am thrilled to bring those genes into my Vintage poodles line. This breeding will bring in style, more type and most importantly, a larger gene pool for my parti program. We are very thankful to Simon's breeder for allowing this breeding. His health testing is as follows: OFA Hips-fair. OFA thyroid-normal. SA normal. NE clear by DNA. VWD clear by DNA. CERF eye exam- normal 2008.
Roxie's health testing is clear and can be found on her page.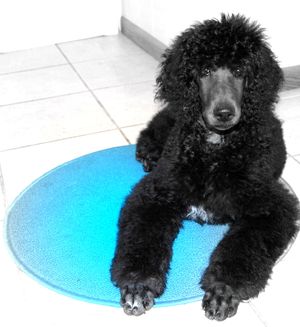 "Sunday" Vintage Calendar Girl - is staying here with us as our next agility and conformation star

. She is my ideal pedigree combination- giving me the best things i like about Roxie, and Simon's sister- our Spirit. She is beautiful and very smart!

"Sadie" went home with the Moen family in the Twin Cities.
She is their first standard poodle and she may even be a search and rescue dog someday!

"Mya" lives with the Wexler family in the Twin Cities
. Her mother has trained her very well and will maybe continue in obedience.
      " Just a note to let you know that Mya is doing great and is so smart. By the second day she was doing a wait at the door and for her food. She's had her second set of shots and has had one puppy class (cleared with the vet). She's really growing. She's been great with other dogs and people. Marlene"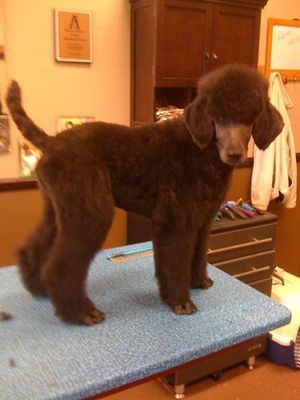 "Ramone" lives with Michi and Paul of Tucson Arizona
. This little man was pick of the litter for agility and he is started on foundation training now.
"
Tony" went home to a new poodle friend and Elizabeth and John in the Twin Cities.
       " Wanted to let you know that the puppy is great. His name is Tony (Antonio J Poodle). He is incredibly confident - there were 19 at Thanksgiving, and he went to everyone & was good. Plays great with big dogs. Marco LOVES him, and plays gently with him. I think Tony may wind up being the boss - at age 2 Marco almost never lifts his leg, but Tony at 10 weeks already tripods almost every piddle.
Elizabeth & John"
"Tilly" went to Ann in Fairbanks, Alaska.
She joins a new standard poodle friend from our breeder friends WhisperRidge Poodles.
"The puppy is doing great! She is very sweet and lovable. She is happy and exploring on, under, and over things.
It looks like an agility dog in the making to me. She is already over being  scared of Ember and is just
a bit cautious. Tell your cousin and all the other "high bidders" that she is not available! Annie"
"
Chaz" lives with JoAnne and Jan of northern Minnesota.
He joins all kinds of pet friends at his loving home.
   "We absolutely adore our little man! Everyone thinks he is so adorable. And we love his little prance. All our animals are getting along very well. He loves the cats! Potty training is also going well. He is perfect in his crate, a great rider, loves people and behaved perfectly at his shower.
Everyone is in awe. I would take another one of your puppies in the blink of an eye. Thank you for making our christmas special."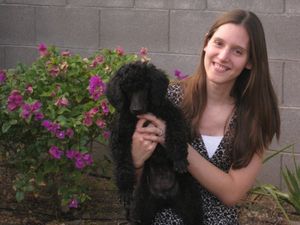 "Halo" went to my friend Samantha in Tucson, Arizona
. She joins a large dog/cat family and will certainly be a fixture in her mom's grooming salon- Posh Paws Grooming.