Our most recent litter was born September 3rd, 2008. Our "Spirit" was bred to "Sawyer," Am. Ch. Autumn Hills Sawyer Brown. There were 9 puppies, 5 Boys and 4 Girls! All were blue or silver in color. With both parents' backgrounds, show quality, as well as great hunting dogs will be the norm in this litter, and of course, great pets! We are proud to mention that one puppy was donated to the Hearing and Service Dogs of Minnesota to be a service poodle!

Puppies Already in their New Homes from this Litter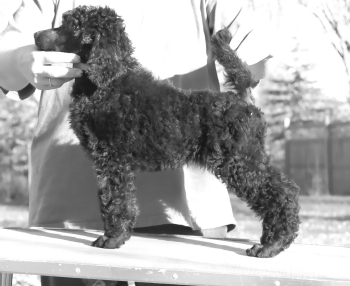 Our pick show puppy  - Nadee- lives in a foster home with Julie and her family east of the Twin Cities. She  carries the brown gene, so we are excited about her future as part of my silver beige program! She will be shown by Spirit Poodles and used in our breeding program, but will have a spoiled life too! Our foster program helps keep my amount of dogs lower and enables all of them to get the attention they deserve.
"Nigel" or our Pumpkin collar boy- lives with a puppy raising family as the beginning of his training as a service dog.  He was donated to the Hearing and Service Dogs of Minnesota, to help someone with both a disability and an allergy be able to have a service dog. 
  Charly lives with the Turner Family in Duluth, Minnesota. He is enjoying his new older poodle friend, Georgie.
"Ruby" who was our hunting pick of the litter, went with the Bester Family of the Twin Cities. She will be trying out pheasant hunting! I'm sure she is keeping her family on their toes!
The Athow Family of St.Paul took one of the big boys for a friend for their springer and a playmate for their son!
Our purple collar girl flew all the way to Georgia to be her new mom, Margaret, and make new friends with her border terrier and older standard poodle.
"Jacko" went to live the life of an uptown dog in Minneapolis with his standard poodle friend Sophie (our Spirit's half sister) and his parents, Erin and Liesl.
Our neon green collared boy went all the way to Canada to live with Skye and her family in the backcountry at an outfitters- that's a poodle's dream!
Our last girl to find her home will be going to live in North Dakota with Michelle!